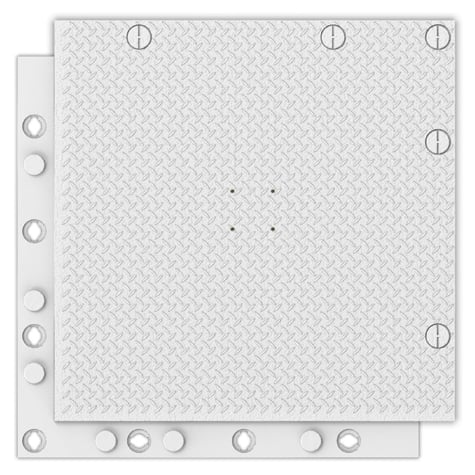 Matrax HD - Portable Event Flooring - 4' x 4'
FREE SHIPPING
Matrax HD portable event flooring panels are made to easily install while also providing a high value of strength. These panels have been used for over 10 years to provide a durable temporary flooring solution for stadium turf protection, tent flooring, walkways, and staging areas. The panels have overlapping upper and lower flanges that are reinforced with structural ribbing which adds rigidity. The overlapping lips also prevent liquids and debris that may be spilled on the surface from reaching the turf below.

The Matrax HD panel is 4'L x 4' W x 1.5" H and weighs 50 lbs. They are made with virgin HDPE plastic, and have a max wheel load of 300 psi and a compressive strength of 450 psi.

MINIMUM ORDER REQUIREMENT: 25 PANELS

Locking tool and edge pieces sold separately.